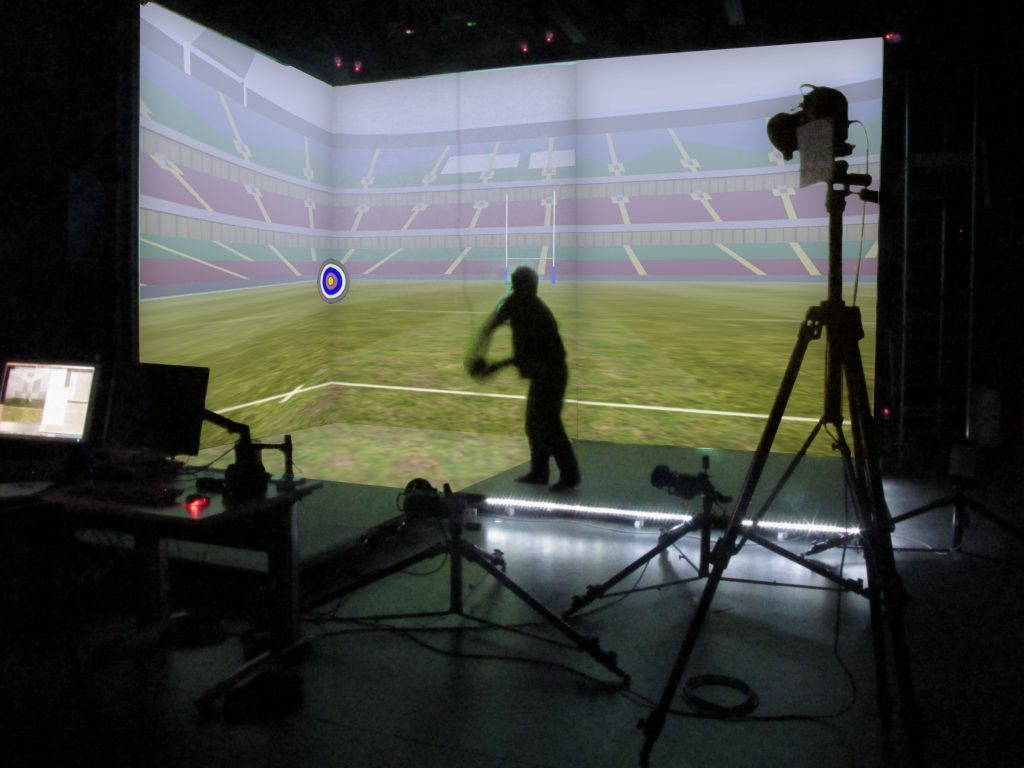 ---
A Virtual Environment for Rugby Skills Training
First and foremost, VERST was my PhD project!
I started working on it in October 2010, straight after completing by BSc at Bangor University. I was lucky to be chosen as the recipient of a KESS scholarship (see my mug on a flyer here!), which allowed me to work on research for a company partner.
During the project, I had my main supervisors in the School of Computer Science, and additional supervisors from the School of Psychology, and the School of Sports, Health, and Exercise Sciences. Together with the head of my company partner, they formed an advisory group which guided me through very diverse and multidisciplinary work.
With the help of my supervisor, Professor Nigel John, I successfully applied for Visionair funding to visit Aix-Marseille University for two weeks to do some experiments with their CAVE. It was amazing, though two weeks isn't a long time to do an experiment, hence me looking a little stressed in the back corner…

In February 2014, I successfully defended my thesis with minor corrections. By late March it was bound and submitted – hurrah! It's now available through EThOS: An Advanced Virtual Environment for Rugby Skills Training.
---
Publications
Helen C Miles, Serban R Pop, Simon J Watt, Gavin P Lawrence, Nigel W John, Vincent Perrot, Pierre Mallet, Daniel R Mestre, and Kenton Morgan. "Efficacy of a virtual environment for training ball passing skills in rugby." In Transactions on Computational Science XXIII, pp. 98-117. Springer Berlin Heidelberg, 2014.
[DOI: 10.1007/978-3-662-43790-2_6]
Helen C Miles, Serban R Pop, Simon J Watt, Gavin P Lawrence, Nigel W John, Vincent Perrot, Pierre Mallet, Daniel R Mestre. "Investigation of a virtual environment for rugby skills training," IEEE International Conference on Cyberworlds (CW), pp. 56-63, 2013.
[DOI: 10.1109/CW.2013.45]
Helen C Miles, Serban R Pop, Simon J Watt, Gavin P Lawrence, Nigel W John, "A review of virtual environments for training in ball sports," Computers & Graphics, Volume 36, Issue 6, pp. 714-726, 2012.
[DOI: 10.1016/j.cag.2012.04.007]